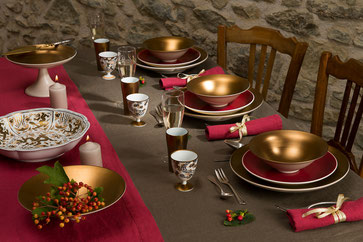 ARITA PORCELAIN LAB, which is a brand of the "Yazaemon Kiln" under Arita Pottery, marks its 210th year in business this year. 

I went on a business trip to France in July in preparation for the MAISON & OBJET to be held in Paris in September where ARITA PORCELAIN LAB will display a line of products as an exhibitor.
The main objective was to conduct a market survey and take a shot of the images delivering the message that our brand offers tableware that blends well with the French lifestyle. We will express "Japanese hospitality (omotenashi)" in French table settings in harmony with the French lifestyle by arranging the simple home-cooked Japanese recipes that are popular in France on ARITA PORCELAIN LAB's tableware.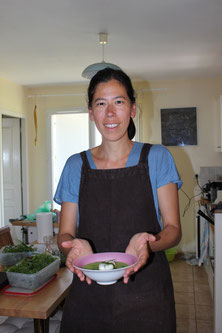 Ms. Laure Kié who is a cooking expert on French and Japanese cuisines was willing to provide me with assistance.She recently got her 10th recipe book entitled "Sushi, Maki" published this fall and a number of her natural and novel Japanese recipes are gaining popularity in France.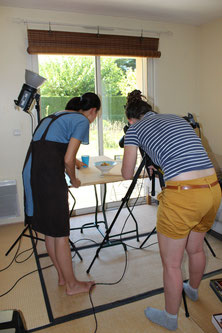 I successfully took a shot of 100 cuts at her home situated in a beautiful village called Saou during four days in exceptionally hot weather of over 30˚C. 

A photo of me showing great interest in the Japanese recipes prepared by Ms. Laure Kié using only ingredients easily available in France.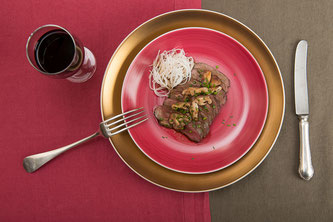 Shiitake mushrooms are becoming popular in France and are available even in country vegetable markets. The French Shiitake mushroom has a stronger flavor than the Japanese version and taking advantage of its flavor, it was used in a sauce for Magret de Canard, which is a traditional French cuisine.The cooked dishes were arranged and coordinated gorgeously on the wine- red and gold plates from the JAPAN AUTUMN series.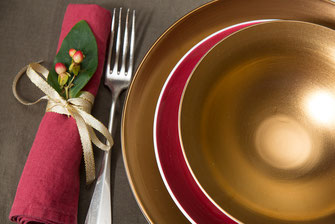 The composed textured gold coat achieved by individual brush strokes applied by craftsmen to the surface and the deep wine-red color of the plate after adding coats of several colors distinct from the red glaze showcase the party table beautifully. I look forward to presenting the tableware in France!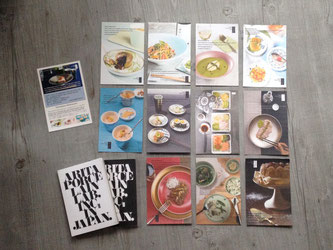 The photos taken in France and the recipes are used for the webpage and catalogues created both in English and French. We are steadily pushing ahead with the production of communication tools in preparation for the presentation in Paris in September.
Our website and facebook page, both in English and French versions are finally finished, so please come to visit us!